I will be updating this after I play a few rounds with the M4, but so far I have put several mags through it and these are my findings...
Packaging:
I was definitely impressed by the box when I first saw it. Not only did it have a nice picture of the different variations of the M4 CQB, it also had a nice carrying handle as
well.
[img]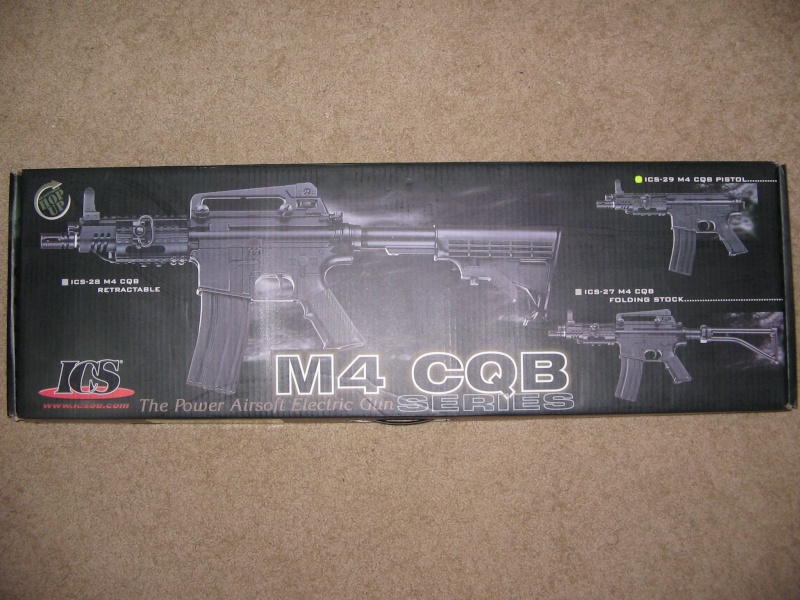 [/img]
Once I opened it up, I was further impressed by the quality molding that held everything in place. Definitely a good transporting box compared to most. Obviously, this box was made to hold all variations of the M4 CQB, but it does a fine job at keeping the non-stock model from sliding around. As you can see from the picture below, it came with 2 hi cap mags, a cleaning rod (way longer than needed), a small PEQ box, a small bottle of .20 BB's, detachable front iron sight, detachable sling mount (on gun in pic) and a nice manual.
[img]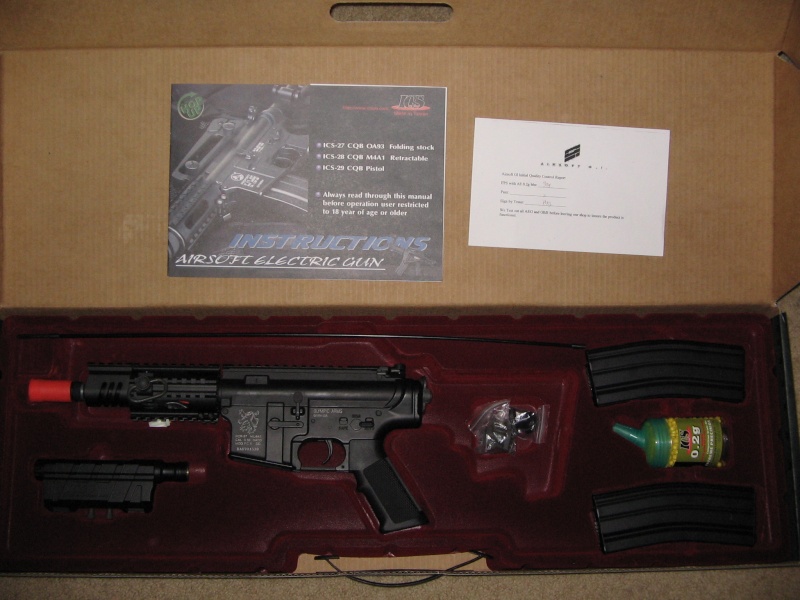 [/img]
Airsoft GI included a small document stating that the gun shot 325 FPS with .2 AE BB's out of the box... I will verify this with my chrono, but it does seem to be shooting close to that speed from what I can tell.
[img]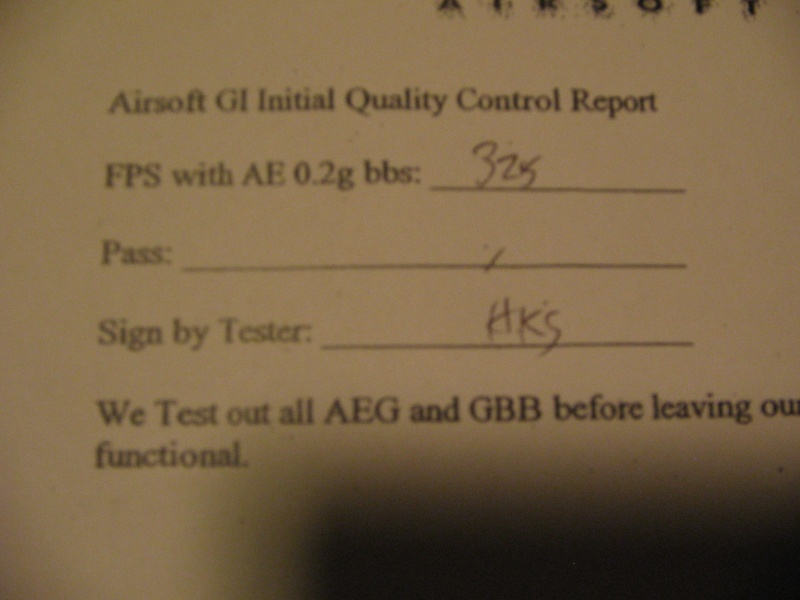 [/img]
I would give it about an 8.5 out of 10 on packaging as they could incase the gun in pillow's to insure a safe transport (joking), but it is above average.
Quality...
-The M4 CQB is only 17" long, but it is fairly hefty due to the replica being pretty much entirely made of metal. Good metal at that.

The small size is obviously perfect for CQB. I intend on using it to accompany my Bar 10 for those close encounters that the Bar 10 isnt allowed to be used in (I am trying to get the Bar over 500 FPS). I am sure I will also be using the M4 for a lot of other game types. To give you an idea of the size... here is a KSC M9 pictured with the M4 CQB:
[img]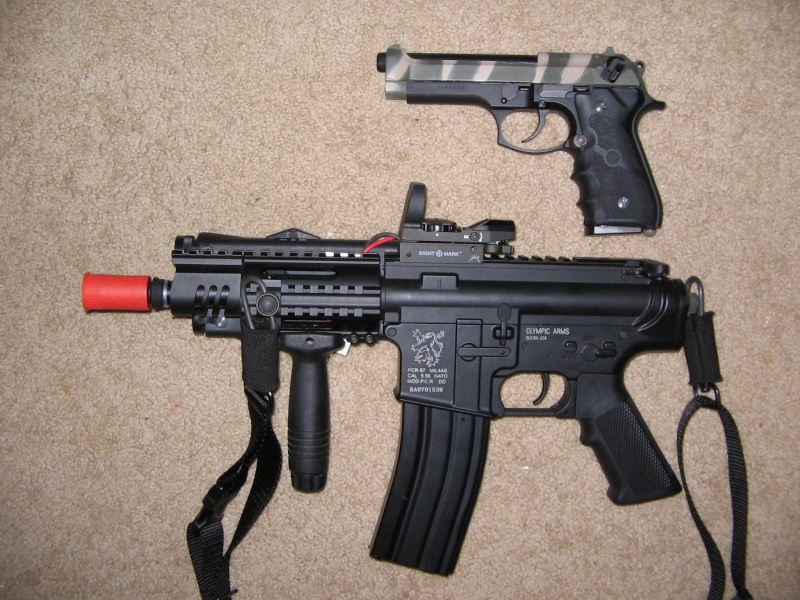 [/img]
-The split gearbox design is fantastic and makes it very easy to change out the barrel, spring, piston, etc... I doubt I will be changing the spring in this replica as I need it for CQB and the limit would be 350 fps for just about any CQB field.
-The hop up unit was very easy to adjust and seems to be doing a good job of putting backspin on BB's as of right now. I am sure eventually I will need to put a new hop up bucking on it, but it is definitely doing fine right now.
-One really nice feature is that when you are done shooting the replica you can take the spring tension off of the replica with a simple push of a button.

While you can simply just shoot other AEG's in semi auto a few times, this is nice as you dont have to do anything special... just push a button.
-The M4 CQB as you can see in the pics has metal rails on all sides up front. I couldnt resist using some of them up, so I threw on a few spare parts I had lying around.
-Really nice feature that is small, but once you get used to it you love it... detachable sling mounts!!!! Very handy to just push in on the center button and it comes right off. Why didnt anyone think of this sooner?

-My only complaints are that the selector switch didnt feel like it was "clicking" into place for the semi auto setting, I will be taking it apart to see if I can improve the action and will update my findings at a later time. My other complaint is that the PEQ box that came with the replica was designed for Mini style batteries and is made from somewhat weak plastic's. I fixed this problem by using a spare PEQ box I had lying around that was a bit larger and made from better plastics.
[img]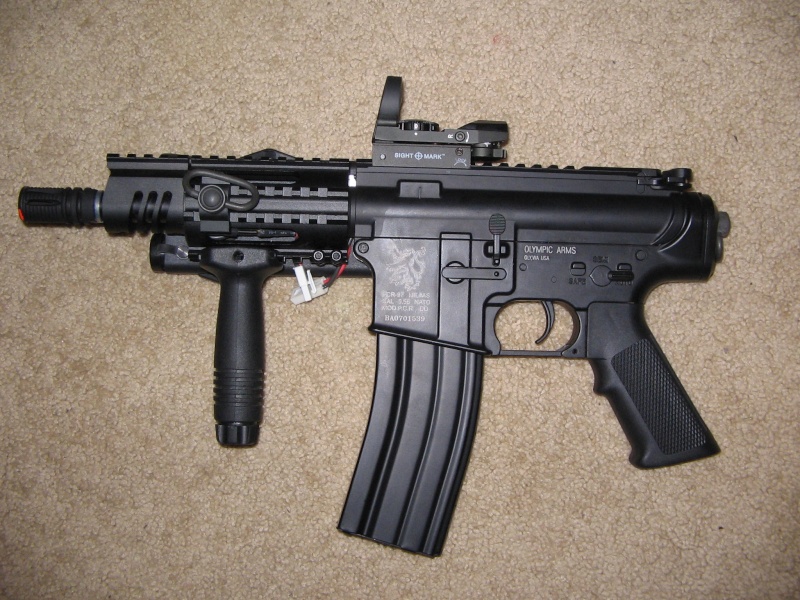 [/img]
Compared to most replica's I have seen in this price range, I feel as though this replica definitely sets the bar on quality I would give it an 8 out of 10.
Looks...
-If you like M4 variants, this is right up your alley. I honestly tend to steer away from them due to popularity, but as you can see, this M4 isnt your typical M4. The receiver is cut down a bit, it has a much MUCH shorter barrel, and in my opinion is pretty intimidating in the looks department. Once you put some gadgets on it, it REALLY comes to life and screams "I'm here to kick ass and chew bubble gum... and I'm all outta gum."

I would give it a 9.1 out of 10 on looks. It would be higher if I didnt have to use a PEQ box to hold a bigger battery that blocks much of the right side.
Performance...
-Out of the box I noticed right away with a 9.6 volt battery it has an impressive rate of fire. I would say on par with Classic Army replica's. Dont get me wrong, it isnt like a SAW running on a 12 volt battery, but it can empty a mag with the best of them.

It is somewhat noisy since it has such a short barrel, so if you are into intimidating people, this is a good choice for you.

If you are trying to be a ninja on the field, stay far away from this.
-Accuracy was a little better than what I was expecting from such a short replica. It has a nice pattern at about 75 feet. From an article I read previous to buying mine, at 25ft Tactical Airsoft Magazine found it shooting right at a 2" pattern, which is fairly impressive. To give you an idea, in the same magazine the A&K FULL sized M4 RIS at 25ft shot a 2.75" pattern.
-The range obviously isnt going to be amazing compared to my other replica's that all are shooting over 375 FPS, but the hop up unit does a really nice job and it can really throw BB's out there. For shooting 325 FPS, it does well.
-The replica being so compact really is a blast to shoot. I found myself going through mags faster than I normally do with other replica's. Not sure if that is a good thing or not, but it is worth noting.

For some reason I find it entertaining to just shoot it from the hip... although, it seems to be working as I am getting fairly accurate results doing this. Maybe I will have a future in unrealistic movies.

-I decided to put a vertical foregrip on the front of mine... seemed to help me get more precise shots without the use of a stock (I am somewhat familiar with this due to my G36 having a folding stock). If you like the feel of vertical foregrips I would recommend atleast trying one out with it.
[img]
[/img]
I would give it a 7 out of 10 on performance, as it could be improved in accuracy and a few other areas... but it is a STRONG performer to say the least.
Bang for the buck...
-I would say if you are in the market for a smaller CQB style replica this is a fantastic choice. I was originally looking at MP5k's but then turned my attention towards this as it was fairly priced at $200. ICS has really hit a home run with this replica in my opinion. I HIGHLY recommend looking at one if you are interested in something for CQB. I have been very impressed by it so far and look forward to using it in some skirmishes soon.

I would have to give it a 9.5 out of 10 on bang for the buck. I really love this thing!!!
Overall all score...
I would say for the money, performance, and quality you get out of this thing, its hard to beat. ESPECIALLY if you are looking for a compact replica. Buy it, or be shot by it... thats my advice.

If you tally up everything it comes to a score of: 42.1/50 I have had several replica's that I would put below this, and few that would be over it.